FHA Home Loan
The Colorado Mortgage Guy is your FHA Home Loan expert. The Federal Housing Administration also known as the "FHA" has been in the United States since the 1930s. It was created to help more families live the American dream of home ownership. FHA is a layer of the Federal government that basically insures the bank on private loans that are taken out for home ownership. Today FHA is a part the Department of Housing and Urban Developments office or HUD. Its main role is to create a buffer and to reduce risk for lenders.
FHA Loan Requirements
Key FHA Guidelines for Borrowers
FICO® score at least 580 = 3.5% down payment.
MIP (Mortgage Insurance Premium) is required.
Debt-to-Income Ratio < 43%.
The home must be the borrower's primary residence.
Borrower must have steady income and proof of employment.
FHA Loan Limits for 2022
Lending Limits for FHA Loans in COLORADO Counties
FHA mortgage loan limits in COLORADO vary based on several housing types and local market housing costs. FHA loans are designed for borrowers who cannot make large down payments.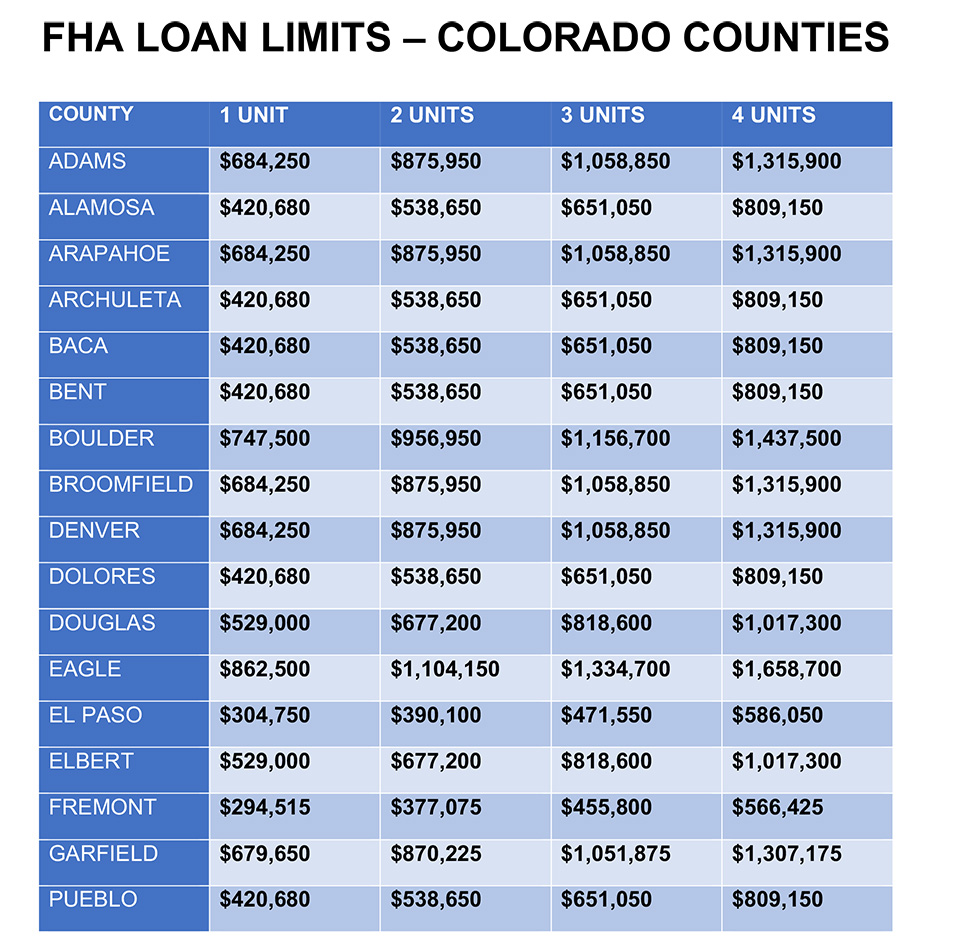 Why should you get a FHA loan?
Higher FHA loan limits and FHA loan requirements allow for lower down payments, and lower credit scores. These have made these government-insured loans a more secure bet for homeowners. As a result, more homes now qualify for an FHA home loan and you can now purchase a higher priced home using an FHA loan than in past years.
Not only that, but stricter traditional loan requirements, such as higher down payments and higher required credit scores, have forced many homebuyers to turn to the less-restrictive Colorado FHA home loan.
The huge benefit right now is the ability to still get into a home with a low down payment. That's the reason why FHA has gone from 3 percent of the market a couple of years ago to 50 percent of the market today.
FHA Mortgage – New Home Purchase or Refinancing
Looking for an FHA Mortgage? FHA mortgages can be used for purchasing a new home or refinancing an existing loan. A FHA home loan typically has two types of mortgage insurance. They will have an up- front mortgage insurance premium and a monthly mortgage insurance premium. These are calculated into your new payment. When buying a new home or refinancing your home the upfront premium will be added to your loan amount and it is not typically an out of pocket expense.
You will typically need to have 3.5% of the purchase price for a down payment with a FHA loan. This money can come from a gift from a relative. FHA also allows for down payment assistance programs, HUD $100.00 down programs, and the ability to borrow money to fix up an existing property or you can finance in improvements on a property you are purchasing. There are specific guidelines and you should call me for more details.
Remember the mortgage insurance does not protect you. This only helps the bank and Lender if you were unable to make the payments. You can use an FHA loan to do improvements to an existing or a new home, to pay off bills, to lower your rate from an FHA or conventional loan and to make your existing rate a fixed rate.
FHA guidelines can be easier to qualify for then other types of loans.
FHA credit underwriting standards are less rigorous than Fannie Mae's and Freddie Mac's.
A up-front mortgage insurance is required, but you are allowed to finance this into your loan amount. This amount is not included in your loan to value calculation.
You can shop for Colorado FHA loans, look at options available, and choose the most competitive Colorado FHA home loan provider. You just need to call me.
What to Know about FHA Loans
Here are ten things to know about getting an FHA Loans today:
You should go to an FHA-approved lender or broker, such as the Colorado Mortgage Guy. You should use a broker certified by the NAMB.
You can expect a lower down payment. An FHA loan requires only a 3.5 percent down payment and you can get that down payment as a gift. A borrower low on down payment funds, this is a great advantage. You can get a gift from an approvable source such as a relative or a nonprofit or government agency that offers down payment assistance.
Easier to Qualify. Because FHA insures your mortgage, lenders may be more willing to give borrowers loan terms that make it easier to qualify. It's up to the underwriter to determine the acceptable credit score. We do have lenders that will approve an FHA loan a 580 Credit score.
First-time Buyers. First time buyers have some advantages. A big advantage is that they can have a non-occupant co-borrower.
Recent College Graduates. For someone just graduating from college that has nominal credit, a parent can co-sign. Once the kid is in better financial shape, he or she can assume the loan without having to refinance to possibly higher rates.
Sellers can contribute to closing costs. Sellers can pay up to 6 percent of the purchase price. If you have a $100,000 home, they can pay up to $6,000 toward closing costs. In a traditional loan, sellers can only contribute up to 3 percent.
FHA Loan Limits. There's help in finding the FHA loan limits in your area. FHA loan limits – the maximum amount a homebuyer can borrow varies based on a variety of housing types and the state and county in which the property is located. To find out your counties loan limits, just call me.
FHA Approval. For FHA approval, you'll need to document your income. FHA does have some rules that are tougher than with conventional loans. For example, to get approved for an FHA loan, you must account for every penny (of income) that you receive.
Qualifying Debt to Income Ratio. Fannie Mae and Freddie Mac's qualifying debt to income ratio is approximately 28 percent (percentage of gross monthly income used to pay housing costs) to 45 percent (the percentage of income that goes toward paying all recurring debt payments including housing); FHA's starting ratio is 31 percent to 56 percent. They also want income documentation to prove you have a stable source of income before approving the loan.
Moderate Income Buyers. For a moderate-income buyer who can't afford a large down payment, an FHA mortgage loan can be a viable option.
FHA Rates
Call Vince (303) 818-0699 to get the current FHA Mortgage rates.
FHA Loan Parker, Highlands Ranch, Littleton, Castle Rock, Lone Tree, Lakewood, Denver, Aurora, Arvada, Boulder, Broomfield, Brighton, Commerce City, Golden, Longmont, Louisville, Superior, Frederick, Firestone, Northglenn, Thornton, Westminster CO.